[news]

although the season is over, but the news just keep on coming. there are announcements on new driver for new team, new names, departure of personnels, new sponsors, new gossips, new qualifying rules, new agreements, etc.

however, none is as surprisingly as the introduction of the centreline downwash generating (cdg) wings.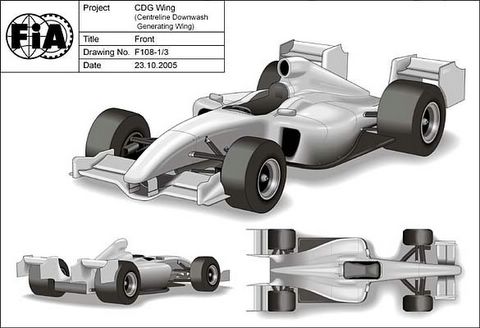 we have heard of rumours of numerous things, but this seemed like quite a secret being revealed. what more with graphics and research images, and such an uncool name.

we all know aerodynamic turbulence contributed to this season's shitty races. overtaking was non-existence except for the japanese gp. along with amd, fia has been studying ways to improve wheel-to-wheel racing in f1. according to fia, they have found the solution and are proposing to split the rear wing into two. somehow, that will decrease the turbulence. well, i ain't a aerodynamicist so i really can't comment.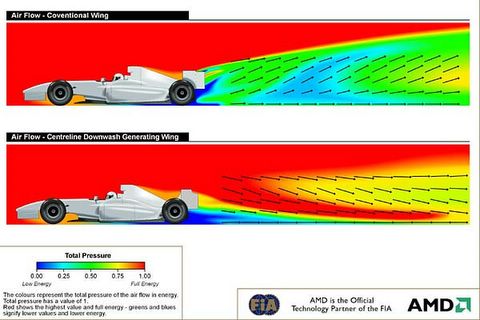 this will work with the new slick tyres to be introduced for 2008. however, overtaking is such a big issue they are pushing it for 2007. all they need is for the technical directors to agree to this radical design.

read what other f1 bloggers say about this new wing:
motor racing journal
formula 1
fast machines
full throttle

although it could possibly improve racing in formula 1, but i'm just saddened with the fact that in the future i would be watch ugly cars overtaking each other. i may get used to it, but it's just not worthed it.



previous posts:
post-season: ted answers back
shanghai: renault takes it all
shanghai: pit strategy to determine all
shanghai: windsor's wisdom
japan: japanese gp is the bomb
japan: rain creates havoc in japan
brazil: championship alonso's to take
spa: go back to driving school!
spa: kimi will win spa
mid-season: eddie's words of wisdom
monza: where will the pay drivers go?
monza: kimi will win monza
monza: coulthard speaks his mind
turkey: excellent new turkey experience
mid-season: greatest f1 driver
hungaro-ring: one more pole to go
hockenheim: the rain that never came
hockenheim: pessimism says it all for germany
mid-season: 2006 qualifying hopefuls
silverstone: renault vs mclaren
magny-cours: absolute beauty
indianapolis: michelin farce
indianapolis: indianapolis motor speedway
montreal: post-montreal notes
montreal: canadian gp preview
montreal: lopsided mirrors?
nurburgring: ferrari to make or break
monaco: f1 and star wars don't mix
barcelona: the era is all over
imola: from zero to hero
imola: f1 aero upgrades
bahrain: what a joke
sepang: bring out the new car!!
sepang: toyota f1 rev party
sepang: klcc sauber f1 street demo
melbourne: the wait is over!
pre-season: the viking
pre-season: nose job
pre-season: b.a.r. unveiled a goose
pre-season: sweet sauber
pre-season: evolution not revolution
pre-season: sauber ain't coming


[tagged: ferrari, formula 1]