michael had his strategy all planned out for hockenheim. he had the softer tyre compound, heavy fuel load to reach him mid race, a good qualifying spot, a good speed off the line, and his superb driving skills. all he needed was the rain.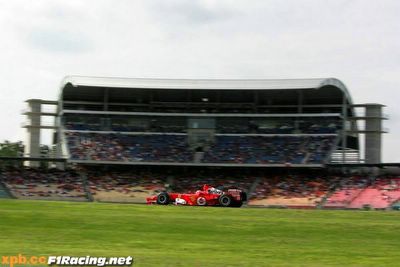 unfortunately, it never came.

well at least that is what i suspect of their original intention. he made all the right decisions on the setup of the car, but he needed to gamble on the rain. the rain will allow him to change into the wet tyres when his dry tyres worn out. and boy did they wear out quick. that was the whole point though, so that he can go agressive on quick laps to keep in touch of the leaders.

we could see he overtook button after the second corner of the first lap, and he managed to tackle alonso for a while. yet after a couple more laps, he dropped behind and button was at his tail. he managed to keep a two seconds gap throughout much of the race, but after the second pit stop it was too much to ask of michael. he not only lost his place to button, but then to montoya and fisichella. it could have been worst if it wasn't due to his superb driving.

we can see that the f2005 has the speed and balance. instead, it doesn't have the tyre durability to provide the car the fast pace the whole duration of the race. it is more than obvious now, and there's nothing ferrari can do to protect bridgestone's good name. people aren't that stupid to know who's at fault.

they can blame their aerodynamics all they want, for this car isn't designed by rory bryne, but aerodynamics doesn't slow the car down midway through the race. they may blame the engine for lack of power, but we know that's not the case and reliability is excellent. they can't blame the drivers, pit crew, or the strategists for they have been so hardworking and flawless. bridgestone oh bridgestone, they not only lose the championship for ferrari, they embarrassed the champions.

with all that said, was it a good gamble? i would say it certainly was. if it wasn't for the gamble, michael would be like rubens. although rubens was on the hard compound, his car also had no grip at all. he only managed to scrap tenth place. despite running on bald rear tyre, michael managed to defend and hold on to fifth, which is pretty good considering the worst case scenario. without the tyre problem and with kimi's retirement, he would have been on the podium.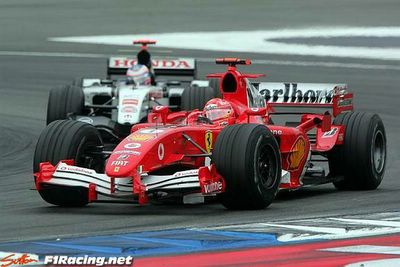 hungary is next. a circuit where ferrari had terrible races in for the past years. i forsee the team being lapped by the michelin cars. they would finish below the top 10, most probably just ahead of jordan and minardi. it's a harsh nightmare, but it is just my preperation for that sad scene.

oh yeah, dare i say alonso and renault is the 2005 champion?



previous posts:
hockenheim: pessimism says it all for germany
mid-season: 2006 qualifying hopefuls
silverstone: renault vs mclaren
magny-cours: absolute beauty
indianapolis: michelin farce
indianapolis: indianapolis motor speedway
montreal: post-montreal notes
montreal: canadian gp preview
montreal: lopsided mirrors?
nurburgring: ferrari to make or break
monaco: f1 and star wars don't mix
barcelona: the era is all over
imola: from zero to hero
imola: f1 aero upgrades
bahrain: what a joke
sepang: bring out the new car!!
sepang: toyota f1 rev party
sepang: klcc sauber f1 street demo
melbourne: the wait is over!
pre-season: the viking
pre-season: nose job
pre-season: b.a.r. unveiled a goose
pre-season: sweet sauber
pre-season: evolution not revolution
pre-season: sauber ain't coming


[tagged: ferrari, formula 1]