what the fuck?
schumacher storms to first pole of the season!
schumacher smashes rivals in qualifying
schu shocks rivals with hungary pole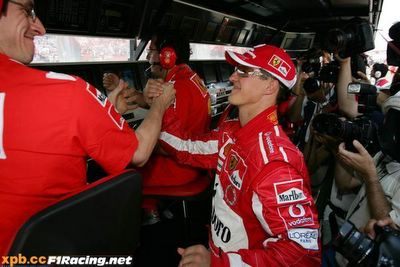 well schumacher did shock me. how is that even possible? one week earlier the team was struggling for aerodynamic and tyre grip, this week they smashed the qualifying time with 0.9s to spare!

every front agrees, this was a heroic effort with a mighty lap time of 1min19.882sec. no car was faster than the time set by michael throughout the weekend, not even in practices. again, this was totally amazing.

did they forgo their race by removing tons of fuel from the car just for qualifying? reports indicated that indeed they have, by going light and on softer tyres. even so, do they need to be so agressive to be nearly a second ahead? this strategy doesn't really make sense. well, whatever works for them.

in my honest opinion, the tyres can't possibly make it till the end of the race. definitely not under hungary's heat, for god's sake, with track temperature of 50 celsius. judging from hockenheim, we know the tyres will degrade tremendously. plus with the twisty circuit layout, the bridgestones will surely be tormented.

will ferrari be banking on another wet weekend? weekends after weekends we have heard of a possibility of rain during the race. yet the rain never came. again, we heard that despite the bloody heat, rain is possible. well i wouldn't bet any money on that, and i hope ferrari isn't thinking of that either.

my best guess is this. michael has realized that 2005 is over and done for. so, there's no point concentrating on race wins. in fact, he has plenty of wins and no one can even come close. i didn't research on this, but i believe you could add up every driver's (including test drivers') win, and it wouldn't even come close to michael's tally. that's an amazing record.

one record that michael doesn't have is the most number of pole. currently held by the legendary senna, michael was two short of equaling that record. well, with today's pole, he has one more to go. there are still plenty of races more this year, so i believe it will be a record michael can take claim of.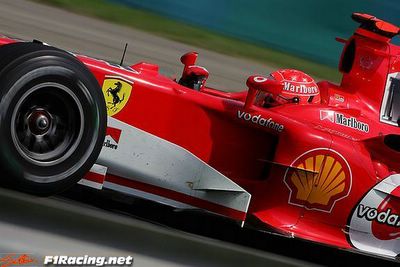 to take pole in hungary is significant. having good grid position will help the team to hopefully get their first win on merit. this circuit is notoriously difficult to overtake, so hopefully pit strategy and good pace will help michael stay ahead. first lap is totally vital, so it is also important to stay ahead of montoya or the renault before the first corner. barichello must perform too, and give the team a good shout at the constructor's championship.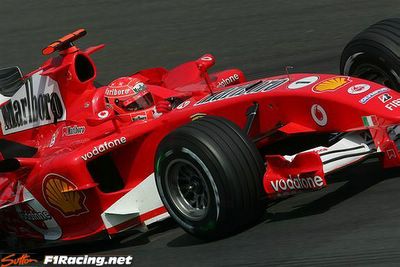 well, only one more day to go to know the result. one day seems a little too long.



previous posts:
hockenheim: the rain that never came
hockenheim: pessimism says it all for germany
mid-season: 2006 qualifying hopefuls
silverstone: renault vs mclaren
magny-cours: absolute beauty
indianapolis: michelin farce
indianapolis: indianapolis motor speedway
montreal: post-montreal notes
montreal: canadian gp preview
montreal: lopsided mirrors?
nurburgring: ferrari to make or break
monaco: f1 and star wars don't mix
barcelona: the era is all over
imola: from zero to hero
imola: f1 aero upgrades
bahrain: what a joke
sepang: bring out the new car!!
sepang: toyota f1 rev party
sepang: klcc sauber f1 street demo
melbourne: the wait is over!
pre-season: the viking
pre-season: nose job
pre-season: b.a.r. unveiled a goose
pre-season: sweet sauber
pre-season: evolution not revolution
pre-season: sauber ain't coming


[tagged: ferrari, formula 1]