[preview]

sorry for the lack of creativity with the title of the post, but the 'sad' fact is i can use the same title for all the remaining races.

of course, this is barring accidents, unreliability, and in spa - weather.

there's no point denying the superior form of the mclaren. after securing the front row in qualifying for the first time (surprising - yes, given the form of the car) this season. could they finish the race with their first 1-2 since years ago? my guess is yes.

again you're free to challenge me. however i find that there aren't that many non-mclaren blog-reading fans, so i don't expect anyone to disagree with me.

actually, the more important question isn't whether there will be a first 1-2, but rather who will finish first of the 1-2?



finally we have the mclarens side by side at the front. we should be able to see how competitive they are with each other, or whether there will be any competitiveness. here is what i suspect: kimi will go ahead of montoya once the lights go off.

montoya will appear to have started slightly slow, allowing kimi to go ahead of him. that moment will be the best for mclaren to take the team order issue out of the equation, so you'll minimize any sort of argument or debate. they did the same thing in hungary when montoya let kimi through in the first lap, and they simply said, "they were on a different strategy."

i hope montoya's ego will not allow that to happen. i am not a fan of montoya at all, but i really want to see him lead and eventually winning the race at spa. he qualified well, and he is truly a fast driver. he should use this opportunity to prove the point that he is indeed faster than kimi. he has to duke it out, make it a show for us.



i guess alonso might need to wait a few more races to secure the championship. the pressure is building, and we can see from his qualifying performance. maybe he has a little more fuel, or maybe they are being conservative after fisichella's engine change. whatever it is, starting behind trulli could make the race more difficult. he has to have a good start.

other notable news:
tyres: williams will be on bridgestone next season. i wonder how button will react to that as the williams package seems more and more unattractive. toyota is at advanced talking with bridgestone, and is expected to switch as well. surprisingly, red bull (using ferrari's engine next season) is sticking with michelin.

teams: minardi will be gone from the grid next season after red bull announced the purchase of the team. there is no name for the team yet, but it will function like minardi in which rookies will get a chance to enter f1. we might see liuzzi in one of those cockpits next season.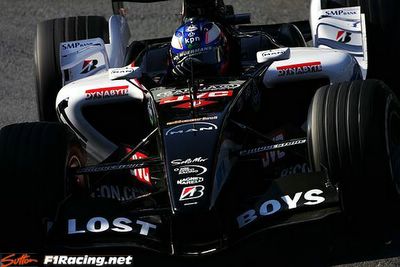 grid: both minardi beat the jordan at the spa grid. amazing improvements for the minardi and very glad to see their performance. the flying indian, unfortunately, becomes the slowest driver on the grid and is looking more likely to be axed from f1 next season.

weather: only the rain can ruin the above predictions. many cars are setup with the rain in mind, thus explaining the slow straight line speed. ferrari is definitely praying for rain to create some chaos. yet honestly, how well can they perform in the rain? who knows, maybe the michelin has greatly improve the wet tyres. overall, i think a wet race is pretty fun as well, so let it rain.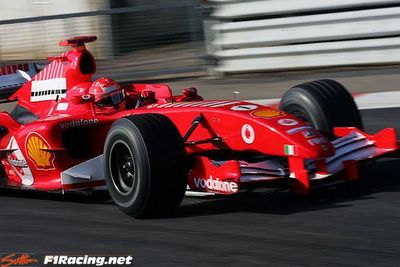 on to spa-franchorchamps!



previous posts:
mid-season: eddie's words of wisdom
monza: where will the pay drivers go?
monza: kimi will win monza
monza: coulthard speaks his mind
turkey: excellent new turkey experience
mid-season: greatest f1 driver
hungaro-ring: one more pole to go
hockenheim: the rain that never came
hockenheim: pessimism says it all for germany
mid-season: 2006 qualifying hopefuls
silverstone: renault vs mclaren
magny-cours: absolute beauty
indianapolis: michelin farce
indianapolis: indianapolis motor speedway
montreal: post-montreal notes
montreal: canadian gp preview
montreal: lopsided mirrors?
nurburgring: ferrari to make or break
monaco: f1 and star wars don't mix
barcelona: the era is all over
imola: from zero to hero
imola: f1 aero upgrades
bahrain: what a joke
sepang: bring out the new car!!
sepang: toyota f1 rev party
sepang: klcc sauber f1 street demo
melbourne: the wait is over!
pre-season: the viking
pre-season: nose job
pre-season: b.a.r. unveiled a goose
pre-season: sweet sauber
pre-season: evolution not revolution
pre-season: sauber ain't coming


[tagged: ferrari, formula 1]