the turkey gp was just straight-out fun!

it is usually hard to get fun at a brand new circuit, what more from a circuit designed by tilke. i guess this time tilke got his redemption, by proving that he can design a track that is both great for tv and also for the drivers. unlike his design for sepang, bahrain, and shanghai, the turkey track became a classic at an instant.

that multiple apex starting from turn eight was just so fun to watch. many people made mistake there during qualifying, that includes villeneuve, michael schumacher, button and sato, and ralf. it was very convenient too that wind was picking up at the corners, thus causing some handling problem. but that's all good, because it is interesting to have a little drama.

so the weekend goes to mclaren again. they really do have a car that is so freakishly superior, that they are throwing out lap times few seconds faster than other cars. fastest lap was by montoya (if i'm not mistaken), and no one could even came close, except kimi of course. but too bad, montoya can't make it the first 1 2 for the season, and there is no one to blame but himself. well, i'm sure they'll get the ideal finish before the season ends.

plenty of actions in this race. i would give the best drives today to button and sato. they really looked to be in the pace element. their speed was also encouraging, and if not because of the qualifying blunder, both cars would have challenged the renaults or mclaren. it would have been great to see some battle up front too. instead, button was left fighting with trulli and sato with the red bulls.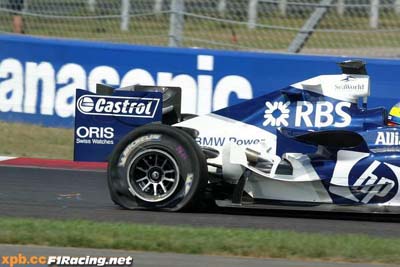 williams had it good too, at first, with impressive practice and qualifying times. however they just have too much problem with the right rear puncture. both cars retired because of that reason, basically it just wasn't safe to drive that car throughout the race. that was a little sad to see as i don't think williams deserve such horrid outcome. i did read that next year williams will get back on top again with cosworth, hopefully this is true.

finally, a very dismal state for the ferrari. both cars didn't impressed at all since friday. my friend commented that it seems like they were only interested in monza or the next season. after some thinking, i think i agree with him. monza is an all important race to do good, or else they are going to get a huge beating from the tifosi. what more the team tested in monza for that race's setup. i think they will perform better in the next couple of races because monza and spa isn't so much a downforce circuit. hopefully they have the right speed to get the drivers up the podium again.

oh and by the way, please, ferrari should do more testing. because all those testing during the three-week-break seems to be doing so good! i'm not sure if it will help further, but might as well burn more money for testing.



what to say about the crash between webber and michael? well nothing really, it looks like a racing incident to me. just a little annoyed, not sure at who, because webber was in fact one lap down. just a waste to have accidents involving cars that are one lap in difference. same goes for monteiro and montoya. nothing to say about those, just a little annoyed.

one last thing, why is it that we don't see champangne celebrations anymore on tv? they would cut it off and show replay of the race when the drivers celebrated on the podium. this has been the case since a few months ago, i believe. i want to see some champagne celebrations!!!



the three on the podium will be the three to watch out for in the next decade.



previous posts:
mid-season: greatest f1 driver
hungaro-ring: one more pole to go
hockenheim: the rain that never came
hockenheim: pessimism says it all for germany
mid-season: 2006 qualifying hopefuls
silverstone: renault vs mclaren
magny-cours: absolute beauty
indianapolis: michelin farce
indianapolis: indianapolis motor speedway
montreal: post-montreal notes
montreal: canadian gp preview
montreal: lopsided mirrors?
nurburgring: ferrari to make or break
monaco: f1 and star wars don't mix
barcelona: the era is all over
imola: from zero to hero
imola: f1 aero upgrades
bahrain: what a joke
sepang: bring out the new car!!
sepang: toyota f1 rev party
sepang: klcc sauber f1 street demo
melbourne: the wait is over!
pre-season: the viking
pre-season: nose job
pre-season: b.a.r. unveiled a goose
pre-season: sweet sauber
pre-season: evolution not revolution
pre-season: sauber ain't coming


[tagged: ferrari, formula 1]